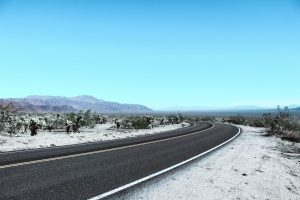 Road trips.
I love em. I love taking long rides in the dusty 2001 Subaru. Exploring, Hiking. Seeing Art. Taking photographs(mostly this).
So if your into any of that stuff listen here because I got the best road trip: The Joshua Tree/ Salvation Mountain Road Trip.
Here's the thing: Joshua Tree is a heck of a place. I could spend a week here ( and I highly encourage it! I'll be planning another soon!) …but for this road trip you take a ride through Joshua Tree National Park, hike and eat lunch at the part of your choosing and head over to Slab City USA to see the Folk Art Masterpiece that is Salvation Mountain.
Salvation Mountain is such a High Vibe place, but it's in the middle of nowhere and isn't exactly a full trip (This is why I recommend the Joshua Tree Detour for most of the trip!)
If you do it right you'll be able to view the rainbow slab at the golden hour!
The Trip:
Head out early. Grab some coffee and pack your food. Travel down to the Yucca Valley entrance of the park and travel through. I highly recommend the mines and traveling down through the park. There's an array of landscapes, cacti, and of course Joshua Trees! bring out your camera because you'll be making tons of stops.
Pro Tip: It's sandy and dry so grab lots of water and bring gear for hiking ( and rock climbing!)
You'll travel down through the park and then leave at the south entrance and head down to Salvation Mountain! This is about a 1 1/2 trip from the south entrance of the park so eat some snacks and jam some good music.
If you feel like your in the middle of nowhere, well, your right. Salvation Mountain is near the almost deserted but beautiful Salton Sea (yes a sea in the middle of the dessert!) It's not surrounded by much, but It's quite a pretty ride. You'll know you're getting close to the mountain when you start seeing graffiti and artwork in a small town. You'll see the giant rock and cross and simply park your car and see the magic folk art. Pray a little, Climb the yellow brick road. Feel the positive vibes!
This is the perfect trip for So Cal folk! have you don this road trip before? Let me know in the comments!