Your microbiome is as unique as your genome. You might even say we are half-human, half microbes. What happens when we view ourselves as an ecosystem? We treat our body, our gut bacteria, and the earth much differently. We also approach our health differently too. Discover the Microbiome Method, the earth based approach to nourishing a body suffering from chronic illness, autoimmune disease, and mystery illness.
Your Healing Plan Should be as Unique as Your Microbiome.
 What our bodies tolerate,  our herbal and microbial allies, and our healing journey is our own personal form of medicine. Discover the protocol that works with you to find yours.
Do you suffer from a laundry list of symptoms? Weight-gain, brain-fog, bloating, pain, or fatigue? Have you been diagnosed? Do your symptoms often get diagnosed as a "Mystery Illness," or a chronic illness that comes with no REAL solution? Do you lack help from practitioners? Are you left confused, angry, and ready to give up? 
We must look to an unlikely solution: microbial life. They are some of the oldest life forms. It can be hard to see where they fit in the modern world of healing, however, they may just offer a solution like plants and fungi do in herbalism. What if I told you that these lifeforms are the key to discovering modern healing protocols that deliver real results? Intrigued? Ready to discover how microbial diversity is the missing link to your mystery symptoms, weight, autoimmune disease, or chronic pain? 
This approach is for you if…
…If you are determined to restore your health and freedom
…If you are looking for natural solutions and earth based remedies
…If you're tired of handouts diagnoses, and solutions that don't feel aligned with your lifestyle
…If you're at the tipping point where you feel you are about to go from bad to worse.
 …If you desire vibrant health but don't know what you're missing
…If you are ready to accept your symptoms, self heal, and find the root cause of what's keeping you stuck
…If you're sick of being sick!
The Gut is an exotic place. It houses 5 pounds of bacteria and most of your nerves. It digests your nutrients, and controls immune function. It is an ecosystem of life that, when in balance, supports your body. When it comes to health, it is imperative the body is working synergistically in order to support itself. Healing begins on the cellular and microbial level. Our ancestors lived with wildly untamed guts, used plants as allies, and communed with the earth. WE must meet our bodies in their natural rhythm. From there, we can work with food, herbs, and lifestyle practices that support our bodies at the deepest level for radical transformation.
Price for this program is 500.00.
A 3 Month Program with 1:1 Support
This work is for those looking for an aligned approach to health, actionable plant-based protocols, and for those willing to break free from their chronic pain and restore full body radiance
WHAT WE MAY COVER IN SESSION
Balancing your microbiome, nervous system, hormones, and energy for optimal results.
Re-establishing a system for personal healing and routine to best support your body and individual needs.
Crafting a foundation for food, herbs, practices, and movement to enhance your embodiment and self awareness.
Managing your pain, illness, gut health, emotional health and relationship to your healing path.
Autoimmune Disease

Candida + Fungal Infections

SIBO(Small Intestinal Bacteria Overgrowth)

Inflammation

Digestive Disorders

Sudden Weight Loss/Weight Gain

Hormone Imbalance

Adrenal Fatigue

Sugar +Refined Carb Cravings

Endocrine Issues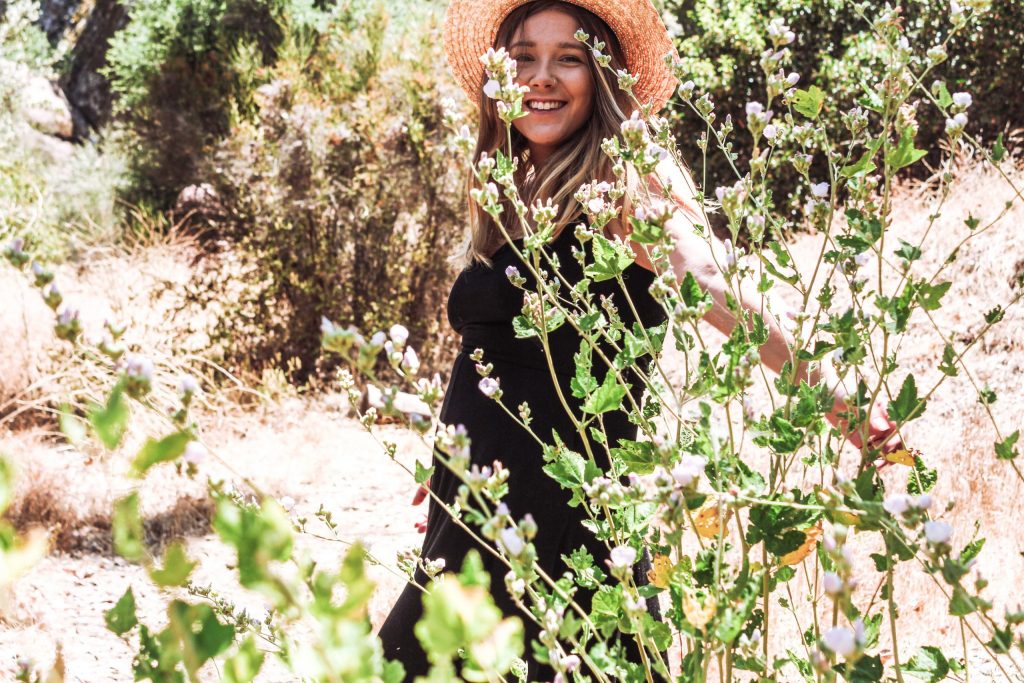 From Chronic Pain to Deeply Nourished…
When I first started my chronic illness healing journey, I remember feeling anxious, confused and blatantly triggered every time I left the doctors office. In one year, I was diagnosed with candida overgrowth, toxic mold, lyme, Polycystic ovary syndrome (PCOS), small intestinal bacterial overgrowth (SIBO), Irritable Bowel Syndrome (IBS), Gastritis…and acid reflux. Without fail, every time I left a specialist's office, I left with a new diagnosis and more confusion. I was tired, angry, and felt like I saw myself go down the chronic pain rabbit hole further and further each and every day. I left every visit WITHOUT a clear, direct healing plan that worked for my lifestyle and needs.
This leads me to where I am today. I followed my gut (quite literally), and my intuition to discover the chronic illness healing key: The Mind-Body Connection. In medicine, we call this the gut-brain axis.
What I discovered is that my chronic pain, triggers, allergies, and illnesses WERE all connected, despite being treated by different practitioners and offices. This was a step I could ONLY discover with self healing, whole food medicine, and herbal support.
What I also discovered was that my energy, mind, and disconnect with my body and food was a root cause of my illness just as much as the parasites, bacteria and my complex frayed systems were.
There were only two real options for me at this point: take responsibility and take charge of my own healing. I had to discover a bio-individual diet and herbal plan that worked for me. I also had to focus on my energetic body JUST as much as my physical body.
Schedule a Free Intro Session
What should I expect?
You should expect support and an adaptable comprehensive healing plan. This program will curate a pathway that targets your unique health goals, concerns, desires, and will help you reach breakthroughs on healing any ailments or conditions you are currently facing on your health journey. Expect radical transformation.
I have limited energy. Can I still do this course?
Your healing journey will go at your own pace. In fact, it's one of the largest parts of this journey. We take it one day at a time, and I'm here for when things start to feel overwhelming.
Do you work with women who have any chronic illness?
I really encourage a 1-1 consult. I do specialize in certain areas, but I very much target the whole body. Make a call to discuss your options. I offer free 15 minute consultations. If not, I will try my best to direct you to other healers and resources that will benefit you on your path.
Is this program right for me?
Are you ready? The results are entirely up to you and your commitment to yourself, your healing, and your goals. Your desire and interest in this program is the first step to your commitment. Due to our  human condition, we often become fixated or sometimes distracted from our goals. My job is to ultimately support, educate, and help you through your own journey. I will make sure you are prioritizing your health by listening and providing my guidance from research and personal experience. I will be there for you every single step of the way… once you take that first step.
Are payment plans available?
Yes! This program is about practical wellness. Therefore payment plans are offered. Schedule a consultation for details.